Last month Storey Publishing sent me this book to review:

Little One Yard Wonders available from Amazon and lots of other book shops I'm sure.
For some reason I was surprised at the amount of projects in it; however the clue is on the cover!  I immediately spotted a couple of items I wanted to make and have already made 4 pairs of shorts in various sizes but more about those another day.  Last week I decided it was time to make something for my about to be 3 year old niece, I had another browse through it and there were a couple of things that caught my eye; one was this:
Sadly I didn't have any grommets to hand and didn't have time to start trawling round to find some.
The other was the Casey Apron, it looked pretty cute and simple; and more importantly something that my niece might like.  So I traced the pattern on to Swedish tracing paper and got planning.
As you may guess from the title of the book 'Little One Yard Wonders' all the items can be made from one yard.  However I don't often buy yards of fabric, I'm more likely to buy fat quarters, fortunately I have a couple of large pieces of Sugar and Spice prints in my stash so I pulled those out and worked out what pattern pieces I could get from each.
The instructions were really clear and so are the layout instructions for the pattern pieces on fabric, but as I'd decided to use 2 different prints I cut the main panels on the fold rather than flat and having to flip the pattern piece over. Interestingly the pattern materials state that the pattern is not suitable for one-way prints but the accompanying photograph shows the apron in a directional print.
The pattern instructions were straightforward and I made this from start to finish in less than 2 hours (not including pattern tracing time). I made the small size and after asking my 4.5 year old to model it am sure it will fit my 3 year old niece.
So yes, there are photo's! My son was persuaded to try the apron on in exchange for a tiny chocolate egg! Handy pockets:
To be fair to him it was really sunny which is why such lovely facial expressions were used, I don't think he really minded modelling.  This apron would look great in more masculine prints too.
He is the cutest little boy I know, and our gorgeous lavender bushes seem to make a good backdrop for outside photo's.
It's not easy to see here but the neck strap is made of 2 parts and have velcro on so it can be done up behind the neck and the same goes for the waist; no tricky ties to do.  The main panel is lined with the fabric I used on the neck and waist straps.
The apron was delivered to it's new owner by post yesterday, however when I spoke to my sister-in-law yesterday the birthday girl was asleep so yet to open her gift. I can see more of these quick makes in my future.
So far I am delighted with this book, I think it would be great for people who are just starting on a sewing journey and want to sew for children. There are useful guidelines at the beginning of the book on sewing for children, an extensive glossary; handy if you are new to sewing and don't know what something means (lets be honest we've all been there). At the front there is a pocket which contains all the pattern sheets for every item in the book. You know that a yard of fabric will be enough for each project so even if you don't have a stash of fabric all you need to buy is one piece of fabric (try limiting yourself to just one though ;-)). My favourite thing? (apart from the patterns) joy of joys the book is spiral bound, so when you lay your book down to carry out the next step you do not loose your page, how I love that; I can just glance across and look what the next step is without having to find the right page (again).
The theme for Le Challenge this month has been 'small' so this is my entry; for a small child, I have made a host of other 'small' things but you'll just have to wait and see.  Check out what other 'small' themed things people have been making: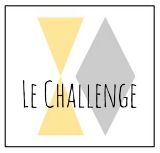 Storey Publishing sent me this book to review however all opinions are my own.  I will continue to make items from the book and write about them here.