Or so it might seem.  You may well have seen a number of pouches popping up on sewing blogs all with 3 zips.  Yes, 3, well if you can put one in you can probably put in 3!  This is all thanks to Debbie's tutorial that she posted last summer, she recently organised a zip along and having had the tutorial pinned for months I thought I'd give it a go.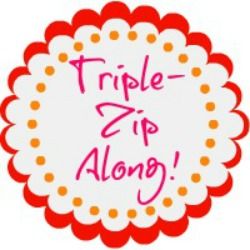 I pulled out the text charms from the Addicted to Text charm swap I took part in last year and made a block loosely based on the Oh Fransson! tutorial.  I then quilted it onto some thinnish batting:
I didn't have any zips in that were the right size (9″) or colour so I made a very quick trip to the fabric shop and bought all the zips the were the right size and colour:
You might detect that the block looks quite big, well my plan was to make not one but two pouches, as I didn't think it wouldn't take much longer. You might also notice there are 5 zips in the picture – that was just to confuse things.
A couple of things I discovered along the way were that I found as I sewed the pouches I could easily have used 8″ zips rather than 9″ as specified in the tutorial, I cut off approx 2″ once the zip tabs were on.  I also think that the zip tab pieces would have been big enough at 1.5″ x 2.5″ (rather than 2.5″ x 3″) – you can tell that I am tight with fabric and don't like cutting off 'big' pieces to discard them!
I found the finishing stages of the tutorial slightly unusual and tricky to work with and after doing one that way I devised a way that suited me, no, I didn't photograph it and it's tricky to put into words – sorry.  Hadley boxed the bottom of hers and because she had a directional print need to do it slightly different, check out her post on it if you want some more guidance.
There are subtle differences between my two pouches:
Can you spot them?
There are a number of tricks, tips and advice in the flickr group so if you fancy having a go it's worth having a read of those first.
The linings?  Would you like a peek?
I used various text prints from Michele D'Amores Wordplay collection that I bought recently:
I'm pretty pleased with how these turned out.  Thanks very much to Debbie for the tutorial and the inspiration to make one (or two) myself.  I'm not sure I'll ever be able to make just a one zip pouch again!
So do I need 2 pouches almost identical?  No it's guaranteed to confuse me so I'll be giving one away at some point, would you like one?
And while on the subject of giveaways, come back tomorrow I've got one lined up for you…
Linking up for the month of February: