Sew Mama Sew giveaway winner announced over here.
At last a blog hop for cushions not pillows! (In my life cushions are for sofa's and pillows are for resting your head on at night).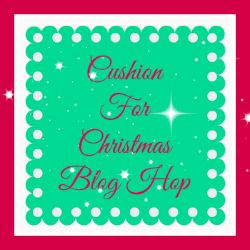 On Friday afternoon I spotted a rather gorgeous cushion over here and I realised that it could be a quick and simple gift for one of the nieces on my list.  So already knowing what colours she liked I pulled out my scrap boxes and rummaged and used this tutorial.
Before too long this was happening:
A bit of ironing, cutting and more stitching and there was this:
I had fun playing with my new Acufeed ditch quilting foot, although it doesn't work by magic and a little more concentration might help next time.  I might also need to pay more attention to how I press the seams.  I'm guessing that if I press them open then it should make the ditch easier to access.
So once the electricity guys had been and gone (they turned the electrics off for 45 minutes at 19:30 so I faffed about by candle light trying to find something to do) I finished the cover off:
More scraps for the back:
Another gift finished:
Thanks to Joshua for the inspiration and tutorial, I'm feeling inspired to make more!
Linking up with: