Ok so it's not winter yet but Sarah at FairyFace Designs has set up Winter Stitching Plans for those of us who like to keep track of what we're doing.  I found it really useful with her Summer Sewing Plans so I've been trying to find things to make up a list!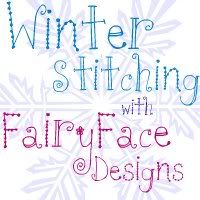 Spend the $50 gift voucher I won in the 12 Gifts of Christmas Blog hop from Pink Castle Fabrics
Bethan would like a cushion of her own, a similar design to the one I made for Mathias
Make a new seat for the children's baby buggy – it's fairly wrecked and I've lost count of the number of times a day Mathias comes in pushing it saying 'broke' wanting me to put it back on.

I'd love to at least make a start on a quilt for Leah, I've nothing in mind, no fabrics specifically for it – it's a long shot!
Design and make a drawstring  bag for a DS with pockets for games.  I have a friend who would like one and nieces who could have one each for Christmas – if I get my act together.
Tobit has a drawstring bag that he carries around for all his gadget wires, USB stick, headphones etc, he thinks I should make more things for men, he's right that I could do with more ideas for men, they are more difficult to sew for…(any other suggestions gratefully received).
Much earlier this year I was asked for a tutorial for the flower brooches that I make, I've got as far as taking some photographs of the process so my aim is to complete it with some text. There are probably a few of you clever lot out there who could just make one from the photograph…

Various friends and family members have had babies this year and I'd like to make each baby a soft book.  (Here's a preview of the other book that is on it's way to Sue:

Open an Etsy shop – not really a sewing plan but it is related as I'll need to stock my shop with sewn goods!
Make a pile of stock for the 6 Christmas fairs I've booked to do!
Make a least one of the tutorials that I've pinned to my Pinterest board
Take the Tie Front Tote Online Class by Trish that I won on her blog Two Peas in a Pod
Use the vintage sheets and pillowcases that I've been collecting to make a quilt
Make Christmas decorations for my partner in the Very Berry Scrappy Christmas swap
Get more use of the Go!Baby that I won earlier this year and haven't used much, except for a lot of 2.5″ strips and a pile of tumbling blocks for Mathias' cushion cover.
Tobit bought me the book Sewing for Boys by Shelly Figueroa and Karen LePage and I'd love to find time to make something for my boy from it.
I think that will do for now!  I'm sure there is a lot of other sewing that will go on but it's useful to have some plans written down.  There is still a day left to link up so be quick.